CaF2 (Calcium Fluoride ) material
CaF2 crystal have good performance at 0.13~10 μm wavelength range, wide range of light.CaF2 cyrstal is transparent over a broad range from ultraviolet (UV) to infrared (IR) frequencies.
CaF2 is used to manufacture optical components such as windows and lenses, used in thermal imaging systems, spectroscopy, and excimer lasers, Fourier analysis, testing instruments, gas liquid laser system, astronomical telescope, MIR/NIR imaging system, etc.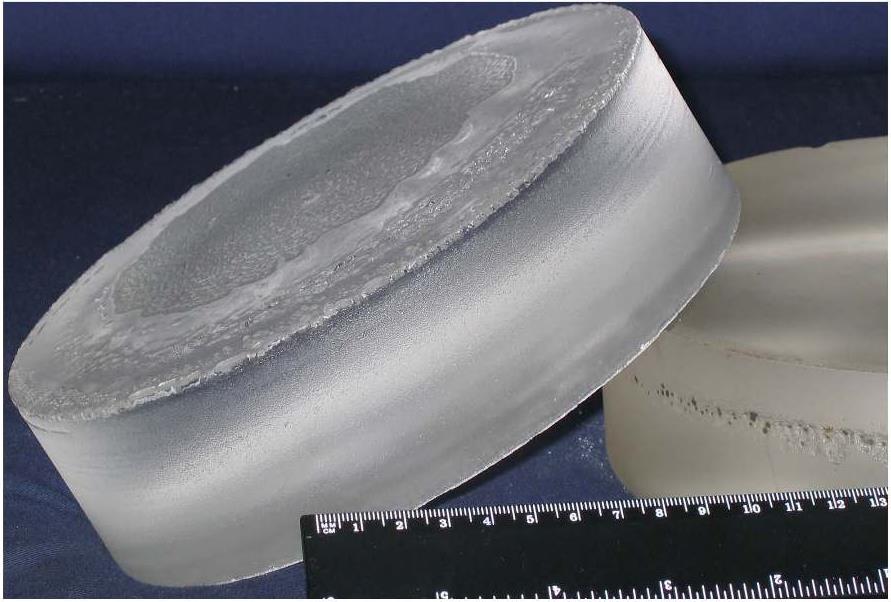 We can provide deep ultraviolet ( excimer level ), ultraviolet and infrared level calcium fluoride materials and components.
We have all kinds of orientation, such as <111>、<110>、<100> etc.
We have all shapes of material, such as round rod、square plate、step、prism、wedge and so on.
We have all kinds of conventional plate、spherical and wedge in our stock.
We have the size of 4mm-200mm mono crystal and poly crystal materials and optical element.
Optical Properties
Transmission Range
130 nm to 10 μm
Transmittance
>94% at 193 nm to 7.8 μm
Refractive Index
1.39908 at 5 μm
Reflection Loss
5.4% at 5 μm (both surfaces)
Absorption Coefficient
0.03 cm-1 at 2.6 μm to 2.9 μm
dn/dT
-10.6 x 10-6 /℃
Physical Properties
Density
3.18 g/cm3
Melting Point
1360℃
Thermal Conductivity
9.71 Wm-1K-1 at 286K
Thermal Expansion
18.85 x 10-6 /℃ at 273K
Knoop Hardness
158.3 with 100g indenter (kg/mm2)
Specific Heat Capacity
854 J/(kg.k)
Dielectric Constant
6.76 at 1MHz
Youngs Modulus (E)
75.80 GPa
Shear Modulus (G)
33.77 GPa
Bulk Modulus (K)
82.71 GPa
Elastic Coefficient
C11=164; C12=53; C44=33.7
Apparent Elastic Limit
36.54 MPa (3900 psi)
Poisson Ratio
0.26
Chemical Properties
Solubility
0.0017 g/ 100g water at 20℃
Molecular Weight
78.08
Structure
Cubic Crystal
Cleavage Plane
-111
Related products